See what others are saying...
Thanks Guys. Great Job!!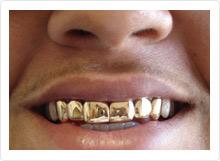 I cound not wait to get my first gold grill. When got it and tried them on it was a perfect fit. you guy really pay attention to detail. Now, i can't stop smileing.
I would recomend anyone looking for costom gold grillz to your website. Thanks Guys. Great Job!!
Best Fronts I've Ever Seen!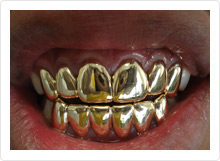 Since I got mine back its hard for me to want to take theme out. These are the best fronts I've ever seen. I bought some before from another company but they can't compare to the ones I have now. I don't think anyone can d a better job!
Thanks!
Can You Tell They're Pull-Outs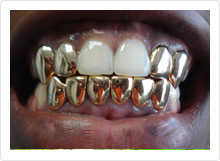 Everyone keep asking me if these are preminate glod teeth. You Can't tell they are pull-outs. Plus they fit like a glove.
Bling-Bling!!!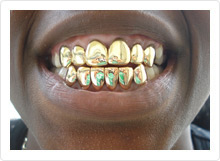 In the south we get our bling-bling on. So if you you want to get your shine on, this site is the only place to get it done. My golds are flawless.
These folk really know what thay are doing!
contact us
We look forward to working with you! If you need assistance placing an order or have any questions, please let us know.
We can be reached by e-mail, telephone, or postal mail.